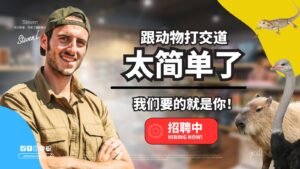 招幕中!喜爱动物的朋友看这这里
(EN
)
–
我们是一家致力于推广异宠动物科普的宠物企业,现正需一群热爱动物的人才加入我们的团队。不论你是否具备相关学历, 只要你热爱动物,我们都非常欢迎你的加入。若拥有行业相关经验或者技能者更为理想
我们需要的不仅仅是专业技能,更需要的是你对于动物的热爱和行业关心。如果你的梦想是从事和动物相关的行业,并希望从中有所作为,Pets Star将会是最佳的选择。
–
想要良好的工作环境?
研究需要大量资源上的支持?
我们这里都有!
想加入我们的团队?或者想了解更多信息?请发送你的简历至我们的邮箱。
我们的大门将永远为你开着!
–
Recruiting! Friends who love animals look here
(EN
)
–
We are a pet company dedicated to promoting exotic pet science, and we are looking for a group of people who love animals to join our team. Regardless of whether you have relevant education or not, as long as you love animals, we welcome you to join us. Those with industry-related experience or skills are ideal
What we need is not only professional skills, but also your love for animals and industry concern. If your dream is to work in an animal-related industry and hope to make a difference, Pets Star will be the best choice.
–
Want a good working environment?
Research needs a lot of resource support?
We have it all here!
Want to join our team? Or want to learn more? Please send your resume to our email.
Our doors will always be open for you!
–
Annual and medical leave
EPF,SOCSO
OT claim
–
Address地址:
26, Lorong Pending 4a,Bandar Puteri, 41200, Klang, Selangor
Waze:
Google Map :
https://goo.gl/maps/TxB6TeWHJEneGLk9A
–
Whatsapp:
–
Customer Service
: (+60 )10 -986 9396 / (+60) 10-392 9396 / (016-702 9396
–