Splash-backed Dart Frog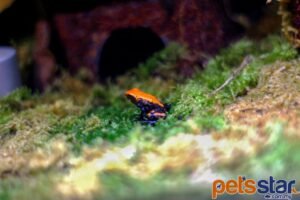 This vibrant, medium-sized frog gets its name from the unique, brightly colored pattern on its back. Hence, the splash-backed dart frog (Adelphobates galactonotus).
More information please contact
0109869396 (9am to 7pm)
Worldwide export available:
+60167029396
+60103929396
PETS STAR
No. 26G, Lorong Pending 4a, Bandar Puteri,
41200 Klang, Selangor, Malaysia.
Operate 9am to 7pm
Open everyday
#PETSSTAR #EXOTICANIMAL #petsstarklang #petsstarexotic #petshop #reptile #petshopklang #exoticpetshop #exoticpetshopmalaysia #exoticpets #exoticpetsofinstagram #petsstarmalaysia #petsstarpets